[SISTER ACT] THE MUSICAL SISTER ACT, UP TO 30% OFF!
Discounts up to 4 tickets using Mastercard issued outside of Korea!
Introduction
NUNS ARE RETURNING, FULL OF FUN!
The Best Spirit of Broadway's Musical Comedy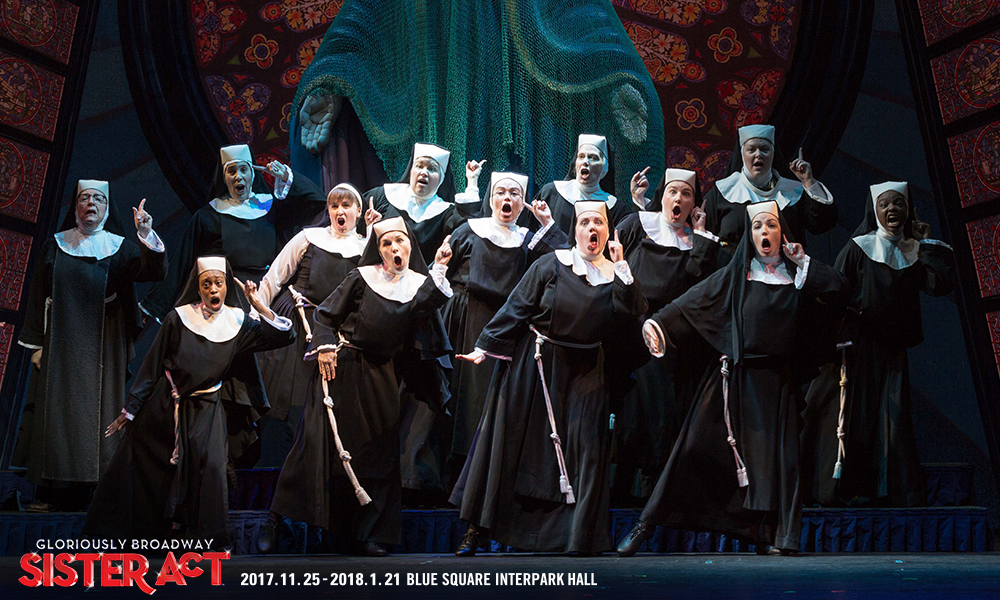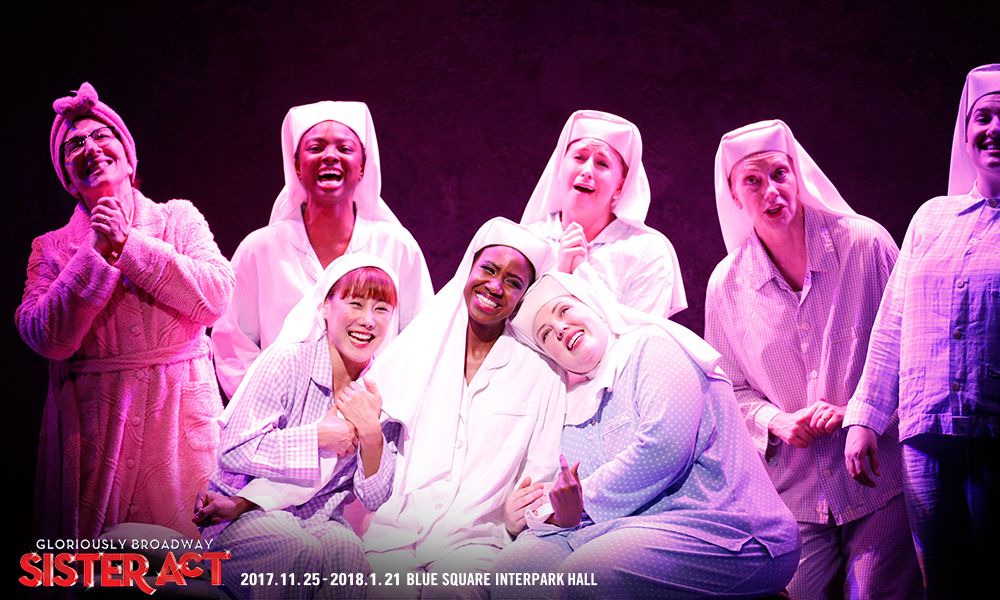 FANTASTIC!
Based on the worldwide mega-hit, musical comedy movie!
5 Tony Awards Nominations! Over 6 million audiences! Peformed in seven languages around United Kingdom, the United States, Austria, Brazil, Canada, France, Germany, Japan and South Africa!
FABULOUS! 
Mega-hit show Originally produced by Whoopi Goldberg and Stage Entertainment, 
The original movie's beloved Deloris!Legendary composer of <Little Mermaid>, <Beauty and the Beast>, <Aladdin>, <Pocahontas>, <Tangled> Disney animation's musical genius, Alan Menken! 

FUNNY!
A story of cheerful nuns that will raise the roof of Blue Square!An exclusive chance to experience Broadway's original musical!
■ REVIEW
"HEAVENLY UNBRIDLED JOY!" _Huffington Post
"RIDICULOUSLY FUN!"_New York Post
"Stellar original score and witty lyrics…. Exceptionally witty choreography."_Chicago Tribune

■ SYNOPSIS 
"Deloris, you're fabulous, baby!"Small-time singer Deloris witnesses a big mobster Curtis' crime scene by coincidence. She is put under an immense risk that could lead to her death. From then on, she goes into hiding. She reports to the police and is then hidden under a witness protection program. The police hide her where no one could imagine searching for, a convent cut off from the outside world. 
Transformed into a nun, Deloris starts to struggle, trapped by the walls of strict living conditions and the watchful eyes of Mother Superior. One day, within her daily routine of causing trouble at the convent, Deloris is handed the conductor's baton for the choir. Deloris transforms the choir into a powerful and wild group with her unmatched energy and attractive voice, touching the hearts of all. She becomes an instant celebrity at the convent but is thrown into danger as her disguise is exposed...

Useful Info.
Name of Performance




Musical <Sister Act>

Venue




BLUE SQUARE INTERPARK HALL

Schedule




- Tue, Thu, Fri : 8PM




- Wed : 3PM, 8PM




- Sat, Sun, Holiday : 2PM, 7PM

Price of Ticket




VIP 140,000won




R 120,000won




S 80,000won




A 60,000won

Discounts up to 4 tickets using Mastercard issued outside of Korea




- VIP, R Class : 20% Discount




- R, S Class : 30% Discount

www.musicalsisteract.com/content/english

Terms & Conditions
Purchase of tickets is available from 1hr 30min before the start of the show

The show is not appropriate for children under the age of 7.

When arriving after the start of the show, you may be guided to an appropriate seat instead of your original seat.

All photo/video/voice recordings that have not been agreed upon in advance are prohibited, including the curtain call.

Discounts up to 4 tickets using Mastercard cards issued outside of Korea.

This offer cannot be combined with any other promotion or discount.

Other conditions can be applied.